Web Tools Affiliate Programs
Spotmau PowerSuite

This is the most AWESOME CD that you will EVER use! You can use it to boot up any computer; fix and install your Windows; optimize and speed up your system; clean up history and protect your privacy; recover data and passwords; partition, format and rescue your hard disk; clone and backup your system; and more...
Earn 30% for each sale of Spotmau PowerSuite! And earn 5% for every sale one of your recruited affiliates makes!
It's just the easiest and most promising affiliate program you are looking for!

Sale Commission: 30%
Tracking Cookie lasts for 30 Days
Two Tier Program: Yes
Click Here To Join This Merchant

---
AffiliateShop Network

Merchants and advertisers can start building their affiliate network as soon as they sign up for an account. Our affiliate program software offers an all inclusive affiliate tracking solution with ad tracking, live customer support chat, and more.
View our comprehensive list of affiliate tracking software features and learn how you can start generating more revenue by managing your own affiliate marketing program. Pays $30 for each referral who signs up!
Sale Commission: $30 per sign up
Tracking Cookie lasts for 30 Days
Add Your Program
Do you operate an affiliate program? You can add your program to our directory. Our network makes online advertising affordable for delivering customers and increased sales.
More Info!
---
Two Tier Programs
Make residual income from others you refer into the affiliate program or join under you.
More Info!
---
Recommended
A directory of recommended affiliate programs that we feel will help you make more on the web.
More Info!
---
Making Money
What is an Affiliate Program? More Info!
---
---
---
Offer a wide selection of web templates, flash templates and other products and ready-made web designs, that can be used as a basis for fast and high-quality website. Our website templates, flash templates and all other products are completely customizable and ready for immediate download. We provide your customers with web template design of premium quality.

You will receive 20% of all purchases throughout your website lifetime.

Sale Commission: 20% from anyone you refer
Two Tier Program: 25%

You make 25% of any commission that your subaffiliate makes. So, if your subaffiliate made a $50 sale, he gets a $10 commission, and you get 25% of that $10.

Click Here To Join This Merchant

---
Software Customized For Your Business
Generate Traffic, Improve Your Brand Name
And Keep All The Profits

---

---

---

---

---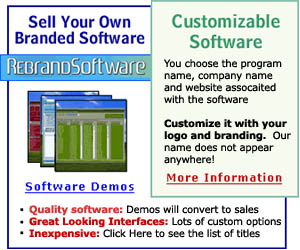 Get serious with our affiliate program, and start getting paid up to 30% per sale.

Our specialty is creating quality software products, with a high resale value, and rebranding them so that they appear to have been written entirely by you. You choose the program name, company name and website associated with the software, and can customize many other features as well. Our name does not appear anywhere.
We give you full resell rights to your branded version of our software, and you are free to sell it however you see fit. Your sales choices are not restricted in any way, and we do not collect royalties, which means you can set your own price for the software and keep all the profits.
The cookie will last up to one full year, so even if they don't register right away you will still get credit for referring them. Once they register, we permanently associate their account with your Affiliate ID in our user database. That means you will make money all on their purchases, forever. This is true whether they purchase right away, or 10 years from now!
This applies to both branded software sales and consumer software sales, as well as any "extras" like our banner upgrade or EyeCandy GUIs. The program works in 3 phases:

Sales 1-5: 10% commission
Sales 6-10: 20% commission
Sales 11+: 30% commission
Tracking Cookie lasts for 365 Days
---
ePowHost Web Hosting Affiliate Program

Sign up Now and start making money FAST and EASY!!
For EVERY order we will pay you $92 !

And our Bonus Promotional Campaign for our affiliates:
You get $50 bonus if you have 5 or more sales in the current month! It's available for everyone and every month!

We offer high quality web hosting service with prices from $5.95/mo.
Also we pay 10% in the webmaster's Two Tier program!
So refer other webmasters in our affiliate program!
Sale Commission: $92 per sale
Tracking Cookie lasts for 120 Days
Two Tier Program: Yes
Click Here To Join This Merchant
---
Mocha Host Web Hosting Affiliate Program

Earn 50% FLAT FROM THE TOTAL sale from any purchase placed on our site - includes shared or reseller plans or simply from any domain registration !

Our average hosting sale is $150 (shared hosting plans) and it goes all the way to $700+ (reseller hosting plans) - which means that you can earn between $75 and $366 per sale just by placing our banners and text links at your site !

Starting as low as $3.71/month
Sale Commission: 50%
Tracking Cookie Never Expires
Two Tier Program: Yes
Click Here To Join This Merchant
---
3DCart Shopping Cart

3DCart Shopping Cart has been in business since 1997. We pioneered as a hosted ecommerce solution and today continue as the top hosted Shopping Cart in the market. You can promote our well-recognized brand with confidence. Use 3DCart links and banners on your website or newsletter and earn up to $75 revenue share each time one of your visitors clicks through to 3DCart and signs up for our services.

Sale Commission: $50per sale / $1 per lead
Tracking Cookie lasts for 45 days
---
VeraCart Ecommerce Shopping Cart

Veracart.com is the most powerful ecommerce shopping cart on the market and is used by small and medium sized businesses. Our affiliate program pays the most competitive rates in the industry, paying several times higher than a typical affiliate program*. While a typical affiliate program pays between 10%-15% of a goods sale (such as Amazon.com®), and up to the first month's fee of a subscription service, we are paying good money for each customer signup that you refer us (usually through your website). And since our shopping cart only costs the customer $24 a month, this is an easy sell and a great payout for you.
And no, we do not lock people into using our cart, which is just one reason why we have such high conversion rates on our site—further ensuring your success as an affiliate.
Sale Commission: 50% / .25c per lead
Tracking Cookie lasts for 90 Days
Two Tier Program: Yes
Click Here To Join This Merchant
---
Interspire affiliate program

6 reasons to partner with us:
Innovative product selection
Affordable, flexible licensing structure
High payouts (up to 30%, with prices of products ranging from $179 to $2000+)
Great website conversion rates
Free technical support and installation for ALL customers
Mature, stable, reliable and highly popular products
If your site caters mainly towards web developers, web masters or freelancers, then the Interspire affiliate program is guaranteed to produce extremely high conversion rates...
Sale Commission: 15%
Tracking Cookie lasts for 60 Days
Click Here To Join This Merchant
---
LinkShare Affiliate Network
LinkShare offers affiliates the opportunity to earn money by referring other affiliates to the LinkShare Network. Earn $1.50 for every valid referral that registers as an affiliate with LinkShare and generates at least one click-through within 30 days of registering.
Sale Commission: $1.50 for every valid referral
Tracking Cookie lasts for 30 Days
Click Here To Join This Merchant
---